Jenny "Horrofreeze"
MeiYuan
Design Sojourn
The Dog House
happy birthday to me then
12:02 a.m., Friday, October 12, 2007
it's 12am, 12 October. i've turned 29. alone in my room, i wish myself another great year ahead, and gave myself a pat on the back.
i don't get the 12am birthday wishes on sms anymore. i guess i'm past it, heh.
tonight i wanna cry
07:16 p.m., Saturday, July 14, 2007
bright light
03:10 p.m., Monday, June 18, 2007
if u think that i'm mad with gem, u're wrong. i love her so much, and i respect her decisions. she's the best thing that's ever happened to me, and long may it remain that way.
the following paragraphs may sound pseudo-optimistic, so those pessimists would do well to steer clear.
something deep inside of me is telling me there is hope. somehow i have a strong feeling that she feels the same way towards me. but there is something holding her back. is it the fear of objection from friends? or does she just not want to risk the beautiful friendship we have between us?
in the early days that she knew me, i was a fragile and emotionally sensitive freak. maybe she still fears hurting me along the way?
anyway, i made her a birthday gift. it's a portrait of her that i did sometime back. put it in a nice IKEA frame and wrapped it in a silver IKEA wrapper. nifty! and i met her yesterday nite at her shop. quite nervous as to what her reaction was gonna be after that sms.
but she was delighted to see me :) and so we went home together, chatted along the way as usual. and i gave her my DIY present. hope she likes it though.
happy birthday
01:12 a.m., Friday, June 15, 2007
happy birthday gem. may you have another beautiful year ahead, and remain loved by those around you. enjoy your day which has been planned by joe, and cherish your moments together.
i have spelled out my confession to you, albeit thru sms. now let me put on my shoes, and walk away.
once again, happy birthday.
an ending
11:32 p.m., Wednesday, June 13, 2007
sandiwara kah selama ini
setelah sekian lama kita telah bersama
inikah akhir cerita cinta
yang selalu aku banggakan di depan mereka
entah di mana ku sembunyikan rasa malu
kini harus aku lewati
sepi hari ku
tanpa dirimu lagi
biarkan kini ku berdiri
melawan waktu
untuk melupakan mu
walau pedih hati
namun aku bertahan..
closure
11:16 p.m., Wednesday, June 13, 2007
these few days have been a rollercoaster of emotions for me. happy for the ones around me, while i myself am being plundered into the deepest of unknown status. at least till today, when i got the closure for a certain episode in my life.
meiyuan has gotten married to her lovely guy jon :) kinda sad that i wasn't able to be there for the wedding ceremony, after all the initial hype of me flying over to grace the event. sorry dear :( i'm sure your wedding was a beautiful one.
gem has been silent from me these few days. and my instinct has been nudging me and telling me something's not right. i've always trusted my instinct, but this time, i just didn't want it to be correct.
today, i met her at the shop. my body was burning with an incomprehensible fever, my head was being clunked inside out by an invisible force. but i still braved a smile at her, and she ditto.
i asked if she was working on her birthday this friday. she said she managed to get only a day off on friday, and she's going out with her guy. the guy whom i thought she was no longer with for the longest time. turns out she is still attached to him.
at least i've got closure. at least i've ended an uncertainty. at least i've killed the anxiety.
surprisingly i still managed to smile through the conversation with her, albeit a bit more silent than usual. but i doubt she noticed it.
so there u go, i wasted my one week leave. the leave that i took just in case i could catch her on her off day to bring her around, give the deserved break that i planned for her. throw away the plans to go on a picnic, bake her a chocolate birthday cake, build a teddy bear with her, and a dinner evening at a certain hotel.
and so the music goes;
walau pedih tapi ku baik-baik saja
tak usah kau tangisi pergiku
*even though it hurts but i'm doing just fine
don't shed your tears when i'm gone.
aku baik-baik saja
07:31 p.m., Tuesday, June 12, 2007
harus ku akui
aku masih sayang kamu
namun hatiku tak mungkin dapat
tuk memiliki hatimu
walau pedih
tapi ku baik-baik saja
tak usah kau tangisi pergiku.
and i hear from you finally
10:38 p.m., Saturday, May 19, 2007
today, my mate wan held his solemnization ceremony with his bride-to-be farida. a huge day for him, where he pronounces his vows to be legally wedded with his wife.
the ceremony was held in the Ba'Alwi Mosque in lewis street. it was quite an eye opener. the mosque itself was having it's own maulud ceremony and open house for some orphanage and nursing homes. there were invited ulamas from indonesia and around the world; it's good that they were present to bless the solemnization ceremony.
in my mind, i did not stop thinking of my gem. i just hope she was alrite, as i hadn't heard from her since. nevertheless i smsed her that i had sent her best regards to the couple, on her behalf...hoping that she would reply.
went back home after the ceremony all sweaty (it was a hot and humid day!). in my prayers, i seeked an answer to where she was and if she was alrite. had a nap after that as i was feeling lethargic due to my aching back.
just a while ago, i was still looking at my hp, waiting for the call. and just after i whispered to my hp "where are u, gem?", my hp beeped! it was her!
she told me it has been crazy at work, now that she's going full flight in the shop. no more honeymoon period for her.
i did what i've always done - told her to take care, as she's also carrying a back pain and is a migraine sufferer too. that's a bad combo! however extraordinarily, what's she's having is what i'm having too. although maybe her migraine is worse than mine now, and my back pain is more severe than hers. we sorta complement each other then hehe
i should be planning for a memorable and super-sweet birthday celebration for her. she deserves a break, and i'll be glad to be the one serving it to her.
ada apa dgn gwe and gem; part 2
07:30 p.m., Friday, May 18, 2007
my life story with gem is like a proper soap opera. at times she gives me the brightest of hope that she has finally come to accept her bestie into her intimate life. then, as i just start to glide around in a romantic high, doubts start to invade my private party.
am i just being too hopeful, and getting blinded by my own hopes? maybe the times when she gave me hope, it was just her extra cheerful day. plus, she's already attached to me in a bestfriend way. so, all the playful nudging of my arms, grabbing my arm excitedly, gazing dreamily into my eyes, and waving me goodbye from her kitchen window after i sent her home from work; they are all just based on friendship. best-friendship. at least that's what my pessimistic side says so.
usually after the high times, i'll be subjected to a period of no replies of my calls, my sms, and even if there was a reply, they somehow feel below room temperature.
i've done better in fact. previously i would have sent numerous messages, asking her what was wrong, why she didn't reply, "so u don't want to talk to me anymore?", u know those idiotic/psychotic comments. i'm ashamed of my previous self. what was i thinking?
most of my lessons have been learned through songs that i listen to. i remember both me and her listening to mariah carey's butterfly, and she told me how she loved it. now i know, probably she was telling me not to keep her under my giant glass. other songs include micheal jackson's she's out of my life, with lines like "so i've learned, that love is not possession".
and i'm proud to say i've grown. i'm mentally prepared to let go of her, if she's ready and found her life partner. i'm prepared to smile when she breaks the news to me. and i'm prepared to play second fiddle in her life, as long as i mean something special to her even as a best friend.
a best friend who will forever reserve a special place in his heart for her.
return of the pain
09:44 p.m., Tuesday, May 15, 2007
so wat's new.. my back hurts again. and it happened when i was going through my reservist stint. so i had to drop out of the reservist training, and see my friendly dr tan.
he told me i shouldn't have gone through reservist in my condition. so i gotta seek advice from a specialist (probably a better one than before), and get a letter written to the army regarding my condition. i would probably use that letter for my workplace too.
it's kind of frustrating having this kind of pain. nobody sees it, and it's only me who can feel it. so u'll have the usual sceptics thinking i'm just trying to seek pity or get an easy worklife. oh well, as long as my conscience is clear. but i still would need the specialist's letter as a written proof.
*burp* it's been a drowsy 4 days, swallowing 4 painkillers each day. it doesn't ease the pain though - only makes me sleep lots. i think that's it. the only thing that would relief this pain is lots and lots of rest. so no more late nites for me; at least for now..
if anyone wants to know what is so bad about my back pain, try this: my lower lumbar spine is not aligned properly. this causes my back muscles to stiffen badly, and pinches the nerves that spreads out from my spine to my legs. what this causes is a very irritating, electric-shock kinda feeling when i walk.
do a search on sciatica :)
at least now it isn't as bad as before. but i can only hope it will be.
selamat datang cinta
07:24 p.m., Sunday, May 13, 2007
harvey malaihollo is such a cool singer. one of the best ever to come from indonesia, i should say. his smooth jazzy vocals are unparalleled. just listen to one of my favorite songs from him below, it's just mesmerizing!
ada apa dgn gwe and gem?
08:13 a.m., Friday, May 4, 2007
wat a wet and lazy morning! good thing i love my workplace, else i wud haf found excuses to stay home. it's that type of morning where i would wake up and take heaps of fresh air through my nose, stretch overly, and then make myself a cup of coffee.
let's talk about yesterday; watched spidey 3 at vivo in the morning. was put off by the rainy weather that made me shiver uncontrollably! the movie was aiiigghhttt.. they could have done with a better storyline and a stronger script, but it was aiiigghhhtt..
so after that i headed over to river island and met up with gem who was as usual busy. but as luck would have it, i came at the right time - her lunch time! so we had lunch. nothing special. see, the great thing about her is that she knows my habits. she doesn't nag about why i don't eat this and that :)
after lunch, we had time to finally sit and chat (not after we rushed out of the freezing building to find some warmth!). i dunno how the topic of marriage popped out.. oh yea, we were discussing about how our friends are/have gotten married, had kids and stuff. and both of us were as jomblo as jomblo can ever be.
both of us had similar thoughts of having small ocassions, or have a combined one with our relevant partners (whoever that may be!). we'd rather save up money for our honeymoon, and to build our family.
oops, gotta work! tataaa
beautiful song
09:37 a.m., Thursday, May 3, 2007
Glenn Fredly - You Are My Everything
i'm hooked to this song (thanks to blog surfing) by Glenn. it's from the movie Cinta Silver; it's got a nice cruising rhythm, and Glenn's vocal uniqueness just brings out the best in the song. ok this song isn't quite new, and katro me only got to know it now.
now if only someone would allow me to sing it to her ;)
oh my long neglected blog!
12:02 a.m., Wednesday, May 2, 2007
wow how long has it been since i last wrote in my blog?? ok ok don't start. i had other stuff to work on these few MONTHS. see? i'm a busy and productive (ok, drop the productive part) guy afterall.
ok lemme start and summarise what i haf been up to lately
1) still slogging off trying to meet ends meet
2) meticulously planning my biz launch. i'm on a tight startup capital, so every penny matters. plus i procrastinate, and i mean lots!
3) tending to my back problem. gotta be gentle with myself
4) people/trend watching
5) "fishing"
other than this already dust-filled blog, i realise i've nearly forgotten about friendster. logged in a few days back to find my outdated profile. ok, changed that.
i've been working on a few new designs and retraining my sketching skill. will upload a few of my works here to get some criticisms :)
alrighty-oh, i'm slogging at work tonite. hope nothing 'exciting' happens ;P till laterz..
dipping feet back in biz?
07:33 p.m., Wednesday, December 13, 2006
now that my worklife has somewhat slowed down, and i have some free time on hand, i've decided to go back to what i love - the arts. engineering is such a bore for me. doesn't do enough to stimulate my creativity.
so here i am, trying to start a parallel life as a t-shirt designer. i did waddle in online t-shirt selling via cafepress before, but that didn't work out for me. the base and delivery prices were too high (hence i could only markup a dollar or two at most). sales were at best just trickling down. i had to close the shop, as the rent overhead was overwhelming whatever i earned.
i decided printing locally was the way to go. but most printers would only print in large sum, so i have to hesitate till my capital builds up. for now, i'll build up on my portfolio of designs :)
and oh yea, i discovered a great venue to showcase AND market my products. it's called MAAD, a sunday marketplace for local art talents. check it out at www.maad.sg.
the wedding
05:16 p.m., Wednesday, December 13, 2006
and so it happened. my secondary school mate amin has finally tied the knot with a wonderful lady ili sulastrie. i don't know much about the girl, but i know they love each other very much :)
nothing special happened during the wedding reception. although, worth mentioning, amin was a figure full of concentration prior to exchanging of vows. sorry bro, but that was a funny sight!
here are a few pix i took from the wedding:
just look at the concentration on his face!

on the way to the bride's place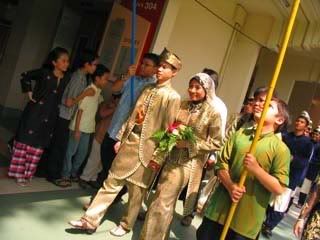 walking together side by side
blankEd is back
03:58 p.m., Tuesday, December 12, 2006
well it is evident that i have finally gotten down to re-doing my blog. i've gotten a better (as of now) job scope now, so i should be able to commit some time on my blog. it would take me quite a while to get my fingers running on the keyboard like they used to - they've been overused recently with tools and equipment.
my long-time friend amin just got married over the weekend. wat a joyous occasion! and with the wonders of technology, i took hundreds of pictures from the event, although almost half of the end product turned out to be crap. so i'm gonna post the crap ones soon :P
gotta go rush to suntec city enroute to work now. hopefully someone could brighten up my day further :)